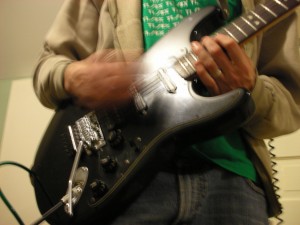 Improvisation, Reading, and Theory
Technique, Time, and Tone
Beginning and Intermediate Players
All Styles
4, 5, and 6 string Electric Bass, fretted or fretless
Acoustic and Electric Guitar

Hi, I'm Jim Coley. My teaching style is relaxed and tailored to the individual student. Through my own materials and methods, as well as through the deconstruction of materials brought in by my students, I teach the fundamentals of harmony, rhythm, and notation. I am an improviser at heart, and I like to teach techniques and theory with the goal of developing each student's abilities towards spontaneous self-expression and cooperative group expression. However, my experiences in the professional world have taught me the value of consistent execution, and I can happily teach from this approach when it best suits my student's goals.  It is my goal that my students should discover their own voices as artists and their strengths as group members.
I am a professional musician. I have been playing bass for 26 years, guitar for 23 years, and teaching privately for 16 years. I hold an undergraduate degree from the University Of Miami School Of Music in Jazz Performance. One my favorite gigs has been with my band Basement, with whom I toured nationally and opened for Les Claypool and STS9. I also played in Atlanta's Best Funk Band (CL Reader's Choice 2006) Entropy, with whom I have opened for Parliament / Funkadelic, Karl Denson and Cyril Neville. I also performed with the Athens, Ga based Latin Jazz quintet Cachaca. I am currently performing around Atlanta with The 16 Bars Hip Hop Orchestra and with my own Coley High Trio. I have fun playing music, so will you. Thanks!